ABOUT US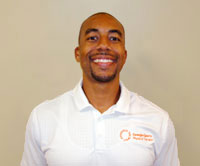 Dr. Lamar Frasier, DPT, CSCS, CKTP, CPT, Owner
Dr. Lamar Frasier is the owner of Georgia Sports Physical Therapy. He is a physical therapist who specializes in the treatment of sports medicine and orthopedic related injuries. He treats individuals of all skill and age levels, with an emphasis on accurate identification of the cause of each condition. The mission of Georgia Sports Physical Therapy is to provide exceptional, individualized outpatient rehabilitation that is injury specific and tailored to each patients' needs. Dr. Frasier opened the practice with the vision of assuring customized and uninterrupted treatment sessions.
Dr. Frasier earned his Bachelor of Science degree from the University of Maryland, College Park in College Park, MD in 2004. He then attended Marymount University for three years to obtain his Doctor of Physical Therapy degree, where he held the position of class president. Dr. Frasier has been practicing since graduating from physical therapy school in 2007, with all treatment time spent in outpatient orthopedic and sports medicine settings. He has been fortunate enough to work with individuals of all skill levels, including professional football, softball, and basketball athletes. Previous employment has afforded Dr. Frasier the opportunity to serve as Clinic Manager and work nationally recognized events, such as the Boston Marathon. He has acquired multiple continuing education accolades to enhance his understanding of the health and wellness field. Dr. Frasier is currently certified as a certified strength and conditioning specialist, kinesiotaping practitioner, personal trainer, and clinical instructor.
Dr. Frasier also maintains memberships with several professional organizations, such as the American Physical Therapy Association and National Strength and Conditioning Association, to remain current within the health and wellness profession. He currently resides in Marietta, GA with his wife, Emily, and three children, Kayla, Jalen and Blake. When he is not working, Dr. Frasier enjoys playing basketball, weightlifting, traveling and spending time with his family.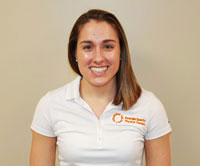 Dr. Brittany Moore, PT, DPT
Dr. Brittany Moore's interest in becoming a physical therapist began early in life when her father experienced a back injury at work. She accompanied him to all of his physical therapy sessions and saw that each therapist was extremely educated, friendly, and compassionate. Through the healing process a bond grew between her father and his therapists that still exists today. Dr. Moore realized then that she wanted to be just like the therapists who helped her father regain his strength while creating a lifelong friendship.
Dr. Moore pursued her dream by attending West Chester University in West Chester, Pennsylvania for a B.S. in Exercise Science. She graduated in 2011 and began schooling for Physical Therapy at Emory University in Atlanta, Georgia the following year. In 2015, she graduated from Emory University with a Doctorate of Physical Therapy and joined the Georgia Sports Physical Therapy team. She is excited to be a part of such a great facility and will work hard to achieve a healthy lifestyle for each of her patients.
Dr. Moore plans to obtain further educational certifications so that she can provide the best evidenced-based, quality care for each athlete. Her past experiences as a high school and collegiate athlete, Division II lacrosse and cross country, as well as current fitness routine comprised of competing in CrossFit competitions and road races have provided her with a wealth of knowledge in a wide variety of sports.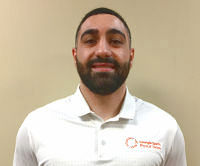 Dr. Reza Hesam, PT, DPT, CSCS
Dr. Reza Hesam is a staff physical therapist at Georgia Sports Physical Therapy. Dr. Hesam earned his Doctorate of Physical Therapy from Emory University in 2016 and graduated with a Bachelor of Science in Exercise Science from Georgia State University in 2011.
Dr. Hesam brings clinical experience in treatment of sports medicine injuries, concussion management, chronic pain, and orthopedic rehabilitation. His previous experience has allowed him to work with collegiate and high school athletes to optimize sports performance with an emphasis on movement patterns and injury prevention. As part of his graduate work, Dr. Hesam developed a passion for concussion management and vestibular rehabilitation. He is currently certified in vestibular rehabilitation and a certified strength and conditioning specialist through the National Strength and Conditioning Association.
When not treating patients, Dr. Hesam enjoys playing basketball, spending time with family and friends, collecting sneakers, and cheering on Atlanta sports teams.